(Loro Ciuffenna – AR, 1918; Terranuova Bracciolini – AR, 2002)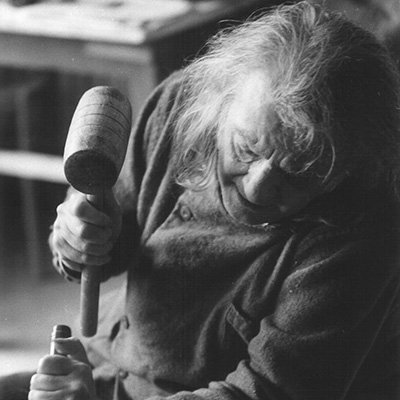 Venturino Venturi was born on 6th April 1918 in Loro Ciuffenna. In 1923 he moved with his family first to France and then to Luxembourg, he did not return to Italy until 1936 when he went to study at the Istituto d'Arte di Porta Romana and the Accademia di Belle Arti of Florence. He came into contact with a lively cultural scene in Florence and met and spent time with artists and literati who traditionally met up at the celebrated Giubbe Rosse cafè.
He was seriously injured at the Albanian Front in 194, and was taken back to Italy where he convalesced until 1943. However, he still took part in all the main national exhibitions organized during that period in Bologna, Florence and Milan. A few days after the liberation of Florence in April 1945, Venturino had his first personal show at the Galleria La Porta exhibiting sculptures, paintingsi, sketches, and drawings. From 1947 to 1949 he lived in Milan where he met Renato Birolli and Lucio Fontana, and so began to increase his interest in abstract art. In Milan in 1948 he won the Premio Garibaldi for Sculpture.
In 1950 he was invited to the Venice Biennale and in 1953 he won, in ex-aequo with the sculptor Emilio Greco, The International Competition for the Monument to Pinocchio held by the Fondazione Nazionale Carlo Collodi: he was forced to interrupt the work due to the onset of serious depression and was admitted to the San Salvi Psychiatric Hospital in Florence.
He managed to get back to work in 1959 and during the sixties, seventies and eighties he exhibited a great deal and was particularly productive in the execution of public monuments.
In 1993 the Venturino Venturi Museum was inaugurated in his home town.
The artist died on 28th January 2002 in Terranuova Bracciolini.
His works are present in public and private collections and can be seen at the Vatican Museums, the Uffizi Gallery, The Gallery of Modern Art in Pitti Palace, the MAON in Cosenza, and the National Museum of History of Art (MNHA) in Luxembourg.