(Crevalcore – BO, 1916; Bologna, 1994)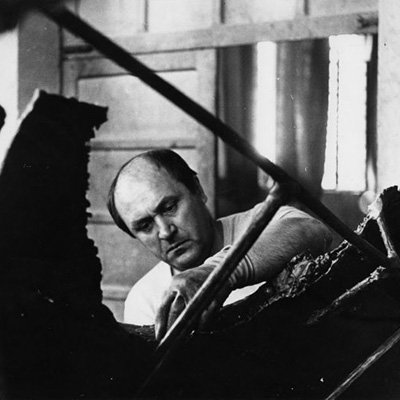 From a very young age he was passionate about sculpture. In Bologna he studied at the Liceo Artistico, and then at the Accademia di Belle Arti where he got his diploma in Sculpture in 1940.
The early 1940s were critical for the artist, not only because he left the Accademia and had his first exhibitions, but also because he took part in World War II.
In 1942 Ghermandi was captured by the English troops in Egypt and imprisoned for four years in a POW camp in the desert. However, thanks to magazines, he managed to find out about the works of Picasso and Henry Moore.
At the end of the war he returned to Bologna and began to take part in the most important national and international exhibitions like the Venice Biennale, and the Rome Quadriennal. This period was marked by a strong experimental tension not only from a formal point of view but also from the need to find materials which fully satisfied his creative requirements. His production ranged from solemn Fascist rhetoric to more informal works, including carnival floats and caricatures made of terracotta.
During his career he was also a teacher, and taught Sculpture at the Accademia di Belle Arti of Florence and then at the Accademia di Belle Arti of Bologna where he was the head teacher from 1981 to 1984.
He also created numerous public monuments and fountains, and his works can be found in both public and private collections including the Fondazione Querini Stampalia of Venice, the Kunsten Museum of Modern Art of Aalborg, the HEART – Museum of Contemporary Art of Herning, and the Kiasma of Helsinki.
Giulia Stagi