(San Giovanni Valdarno – AR, 1945; Montevarchi – AR, 2018)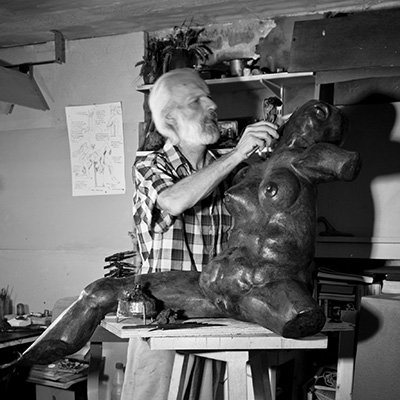 Massimo Sacconi was born in San Giovanni Valdarno in 1945. He attended the Metal and Gold Art at the Istituto Statale d'Arte of Arezzo where he obtained his diploma in 1965. The following year, at the same Institute he became the Design teacher – a subject he also taught in 1980/81 at the Istituto Statale d'Arte di Porta Romana in Florence.
From 1968 to 1971 he dedicated himself wholly to the design of gold jewellery.
From the 1970s on Sacconi's sculptures were expression of his deeply thoughtful attitude to Man and Society. He commented on contemporary events and used his art to launch a universal message.
From 1993 he concentrated on black and white photography, personally carrying out every step up to the final print, giving priority to social issues..
After more than twenty years of exhibitions, he suspended his artistic activity for a long period to then begin again with renewed vigour in 2003.
Between 2006 and 2009 he held three important personal shows in Montevarchi, Florence and Arezzo, while in 2008 the Regione Toscana commissioned the monument «Morti bianche» in bronze and concrete for piazza Cerretani in Florence.
Massimo Sacconi died in Montevarchi in 2018.