(Guglionesi – CB,1867; Turin, 1936)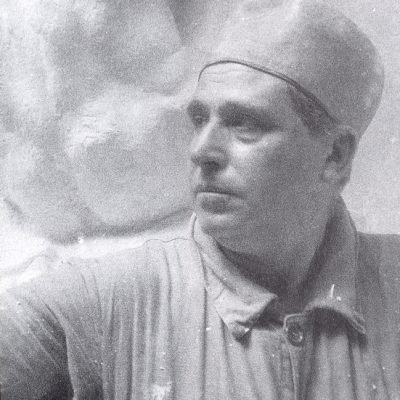 Medallist and painter, Stagliano studies under Domenico Morelli at the Institute of Fine Art in Naples until 1894. For several years he lives in Anacapri where he meets Leonardo Bistolfi and in 1904 decides to move to Turin to stay with Bistolfi and dedicate himself to sculpture. He stays with Bistolfi until 1933 the year of Bistolfi's death. In 1905 he creates the commerative medal that the City of Casale Monferrato presents to Bistolfi after his success at the Venice Exhibition. In 1908 he participates in the competition for the statues on the Umberto I bridge in Turin. He creates the monument Sant'Anselmo (St. Anselm) in Aosta and the statue Giovanni Govone in Alba (made in 1929 and destroyed in 1941). He makes the monuments to the fallen in Treviso (winning a competition in 1926), Alba (1924), Novara (1926) and the Ossuary to the fallen of Cuneo (1934). In 1921 he is one of three finalists in the Viareggio competition for the creation of the monument to the fallen. In 1933 he takes part in the competition for the monument to Emanuele Filiberto Duke of Aosta in Turin. At first Stagliano is bistolian however, in the second part of his career he produces more classical and synthetic pieces. He creates small bronze pieces and funeral monuments, often designing the architectural part as well. He makes some furniture with metal engravings exhibited in Monza in 1923. He shows at the Patron of Fine Arts in Naples from 1887 onwards and in Turin takes part in the exhibitions of the Patron of Fine Arts from 1904 onwards. He also shows at the exhibitions of the Artists' Circle in 1918, 1920, 1921 and 1925. In 1911 he receives an award at the International Exhibition in Rivoli. His works of art are preserved in the Gallery of Modern Art in Turin and the Gallery of Modern Art in Novara and in the collections of the twentieth century in the Sabauda Picture gallery in Turin.
Between 1999 and 2000 the Town Council of Montevarchi organizes an exhibition of his work in the prestigious Podestà Room in the town hall.
Alfonso Panzetta
 Works